Queen Alexandria
Love that necklace.
She's elegant and opulent and royal and not trashy and everything I want to be.
Look at her tiny waist...
and Queen Alexandria gets to wear a million necklaces and it looks GOOD. And nobody makes fun of her.
In costume and gosh she is just smashing.
Queen Maud of Norway
Softness of tulle fuses with hardness of gems. And look at that tiara *faints*
The full costume- snow queen Maud.
Maud in 1909. Once again, tiny waist. smaller than I would wear but that was the fashion at the time.
One of her actual gowns.
Elisabeth of Kleid
Court dress. Not quite my style but still quite lovely.
I'm in love with the delicate yellow silk on this dress. It does make the wearer look stocky though, not least because the heavy corsetting makes the chest just out, giving the appearance of a matronly bust. I do NOT want my dress to fall into this same trap.
Compare to this dress, also Elisabeth's.
Dinner-plate train, but look how tall and slim the wearer appears.
ESPECIALLY from behind.
Josephine de Beauharnais
Shahbanu (Queen) Soraya
Marie Antoinette as portrayed by Norma Shearer
The gold on gold is almost an embossed look, and the bodice is very delicate.
Deborah Kerr
From "Gigi"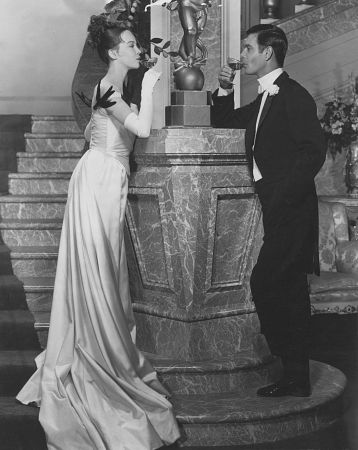 She looks so tall and graceful, like a ballet dancer.
If Glinda and Sarah have taught us anything, it's that sheer puffed sleeves make you magic.
And from the divas we get:
I love everything from her hair to her shoes.